We all have those days when we have a craving for a certain cuisine or food (did we hear someone say chocolate?) We know these cravings get even stronger at work when you're sitting at your desk waiting for the clock to strike 12. At LUNCH:ON we have options for every one of those days no matter your mood. AND, to make it even easier for you we've made a handy list of our 10 favorite lunch-at-work options in Dubai. This list is sure to satisfy your cravings and keep your wallet happy. Great food at great prices, what more could you want!? Say goodbye to daydreaming about the perfect falafel while you munch on your flavorless overpriced soggy sandwich and give one of these a try: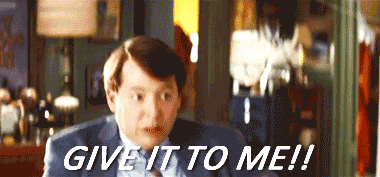 1. For the Days You Want to Pretend You Are a Health Fanatic
Check out Nutri Bowl, for those days you want to feel like a supermodel. We recommend their Salmon Bowl, it's one of the top-rated meals on LUNCH:ON.
2. For the Days You Crave Arabic Street Food
Operation Falafel is what you need. Check out their Classic Falafel Platter or their Open Shawarmas. Both are to DIE for.
3. For the Days You Want to Eat Sushi (or Momos)
Moshi really is the best of both worlds! Try out their Salmon Air Rolls and Tuna Avocado Salad Rolls and go to sushi heaven.
4. For the Days You Only Want Circle Café (a UAE Classic!)
There isn't a meal we don't love at Circle Café! But if you need a little help choosing which one, we recommend The Family Salad or the Super Bowl (or maybe the Mexican Chicken Salad). See, it's hard to pick!
5. For the Days You Want to Pretend You're on Holiday
Don't wait for your next holiday to escape! Go on a trip to Thailand with Fuchsia's Wok Fried Chicken Quinoa. This urban Thai food is sure to transport you and is unlike anything you have tried before!
6. For the Days You Just Want a Brand You Know
Everyone knows and loves Chili's but have you tried their Margherita Grilled Chicken? If you want a meal that will fill you all the way up then this is the lunch to beat all lunches!
7. For the Days You Want Something Super Fresh
You gotta check out Freshii, of course! Their Fiesta Chicken Salad is a LUNCH:ON favorite for a reason. You have to try it to see why.
8. For the Days When all You Want is Avocado (Millennials, We See You)
Obsessed with avocados? Then Tortilla's Large Chicken Guac Bowl will soon become your favorite lunch choice! If you don't believe us, try it for yourself.
9. For the Days You Need a Boost of Energy
Get your pre/post gym energy boost with Taqado Mexican Kitchen's Mucha Lucha Protein Bowl. Whether you hit the gym in the morning or are trying to convince yourself to go after work (you can do it!) this protein bowl is sure to help.
10. For The Days You're Feeling a Little Cheeky (or British)
Whether you're missing home (shout out to our British readers) or you are just addicted to tender chicken and Peri-Peri sauce Nando's is what you need. Our best seller is their Chicken Butterfly with Veggies, a classic!
These are just a few of our favorite dishes that you can get on LUNCH:ON – there are too many to list them all! Sign up to see all of the other amazing restaurants we partner with and get the best lunch Dubai has to offer. That way you can leave the soggy sandwich at home and try one of these dishes! Satisfy those pesky lunchtime cravings without hurting your wallet. Do you agree with our choices? Tell us your favorites.
"Lunch for AED 25. The UAE's best restaurants delivered to your office at a fraction of the cost. No minimums, tips, or delivery fees."